Google My Business Insights
A Premium Brandify Dashboard View
April 2017
After a few UI updates last month, we have included a new update to location status. Availabe now within the Google My Business dashboard is the ability to showcase the current status of a location. This will resolve ownership conflicts and alleviate location issues.
Examples of statuses included are:
Claimed: The location is claimed.
Published: The listing can be viewed by the public on Google Search and Google Maps.
Pending Review: Google is currently reviewing the location This status appears for newly claimed or recently updated locations
Pending Google Update: A Google user suggested an edit for the location, or Google has received new information about the location.
Pending Verification: A claim has been initiated for the location, verification steps are in the process of being completed.
Duplicate: The listing is a duplicate of another location.
Below are previews of what these statuses look live:
New Google Location Status:

Location Status Page with GMB access: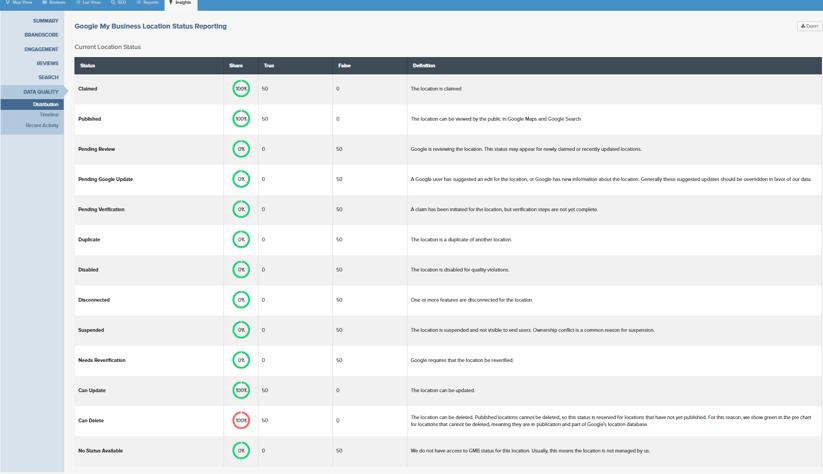 Location Status Page with no GMB access:

With our latest update, you'll always know the status of your locations!
March 2017
In addition to the new Insights features released in January, Brandify has added several UI updates to the Google My Business Dashboard this month, which make it easier to understand your brand's local presence at a glance and decipher between varying data points.

A preview of the new dashboard view is available below: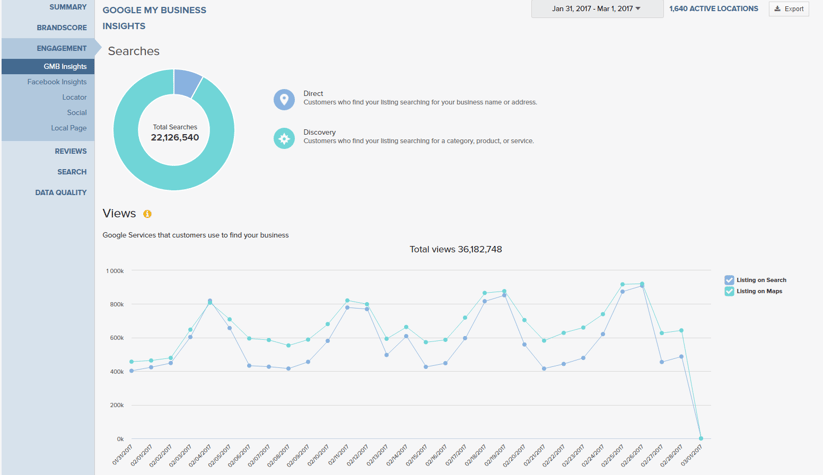 In addition to the GMB Insights page, users will also see an update to the Customer Actions page, as depicted below:




Learn more about managing your online presence with GMB Insights using the link below!
January 2017
After the release of Google My Businesss Insights as a premium Brandify dashboard view in September 2016, Brandify is excited to announce an update to the existing GMB Insights integration that will allow our clients to view customer actions directly from the Brandify dashboard.
The updated integration will include the following Insights:


Driving Direction Requests
Brands will now be able to see where on the map customers have requested driving directions to a store location. With Insights about where customers are leading up to a store visit, brands can target specific geographical areas to maximize on potential foot traffic to nearby locations.
Phone Calls
Find out how often customers called your business after finding your local listing on Google. Understand how many calls your location received within a specific time frame in order to prepare phone coverage for future peak business times, and view phone calls over time to understand how local campaigns impacted store phone calls.
Photos
Photo Insights show the number of photos associated with a brand's listings and how often they are viewed in comparison to competitors' photos. Measure photos by the number of views they have acquired, or by the number of total photos that have been uploaded. Photos can be viewed from the last 7, 30 or 90 days.

With the addition of Customer Actions, brands will be able to access key data points from GMB Insights, all without leaving the Brandify dashboard.



September 2016
Local Listings Insights for Google My Business (GMB) is now available as an enhanced dashboard view. This page is populated with analytics gathered from GMB. These insights are available at both the corporate roll-up and location level. Administrative managers can configure which charts should be viewed in the dashboard. Below is a preview of Insights.
GMB Searches



This view allows you to segment a particular time frame across locations to view how the total quantity of GMB searches are being split up between direct search versus by means of discovery (a product, category or service).

GMB Views


This view segments the sources that drive GMB traffic and gives the total number of daily views.

GMB Customer Actions

This view demonstrates the quantity of daily actions across key KPIs such as website visits, direction requests, calls and photo views.
Export GMB Analytics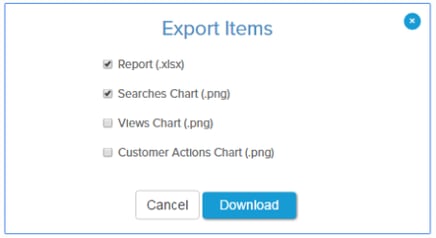 Brandify users can export to an excel version of the report. Users can also choose which specific elements of the report to download.
Launching GMB Insights for Your Brand
GMB Insights is a premium feature that is now available for enterprises who leverage location data management with and grant GMB listings access to Brandify.

For those who currently power GMB listings with Brandify- Your Brandify dashboard can be upgraded to include GMB Insights.

For those who power GMB listings with another provider- GMB Insights can still be brought into the Brandify dashboard to manage your vendor's capabilities.