The Brandify 360° Network
September 2016

Brandify is pleased to announce the growth of the Presence suite with Brandify 360°, an enhanced listings and syndication network that reflects our direct partner relationships to develop visibility across the local ecosystem. With over 125,000 locations under management, the 360° Network offers instant location data core brand-managed publishers.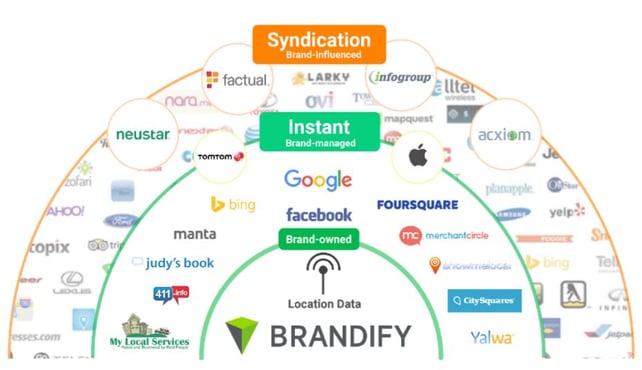 Brandify's 360° Network offers an instant and holistic strategy that focuses heavily on establishing a single, authoritative set of location data by focusing heavily on data cleansing. This service component is the first of its kind for listings managment in the industry.
As a Brandify client, upgrading to this network means:

Instant Updates to Top Publishers
Location data is sent out instantly and/or updated through API connections to network partners such as Google, Foursquare, Facebook, Bing Judy's Book, ShowMeLocal, MyLocalServices, Merchant Circle, City Squares, 411.info, Yalwa, Manta and more.

Persistent, Long-Term Impact
Instead of simply suppressing duplicate location pages, Brandify marries technology and service to detect, permanently de-duplicate and prevent further duplication of listings across core directories. This method provides a long term impact and authoritative location information for a brand's locations.

Data Cleansing
Geocoded data is taken into Brandify's CMS and manually cleansed before distribution across the Brandify's 360° Network. This process covers NAP verification, case formatting and Lat/Long verification.

Dashboard Performance Tracking
The impact of de-duplication and prevention efforts, as well as customer engagement and actions with location data are all reflected within the Brandify Dashboard. Dashboard users can reference these insights to determine ROI and further influence the customer experience. Specifically, new insights from GMB will be accessible directly within your Brandify Dashobard as well as Facebook Insights.

Let us walk you through the power of the Brandify's 360° Network!